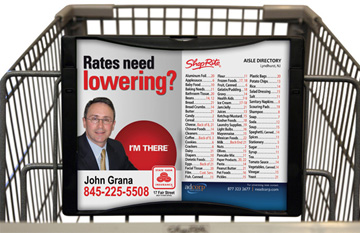 Our Shopping Cart Aisle Directories help your customers quickly locate 112 of the most asked for items in your store.
Maximize employee efficiency by reducing time escorting customers throughout your store.
Market chains may also elect to use this space to promote their own in-store products and services or introduce your store manager or key personnel.
They also serve the dual purpose of generating revenue for your store bi-annually and on a store by store basis.


Innovative Grocers utilize our FREE
Shopping Cart Aisle Directories every day!